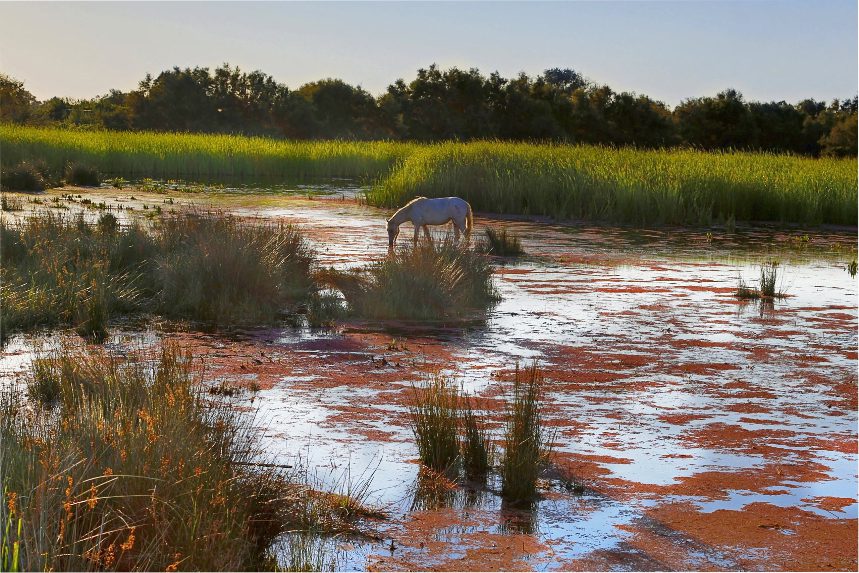 Simplicity
Nature is a luxury
The pace here is slow and gentle. Intoxicating. Exhilarating and enticing. We are situated in the South of France. We are in the heart of the Camargue. Le Mas de la Fouque is a place where quality begins with simplicity. In the heart of nature, we are committed to respecting our landscape, to live in total harmony with the flora and fauna that surrounds us. A stay at Le Mas de la Fouque is above all a time to enjoy every moment that nature has to offer.
Quality
Art of hospitality
Le Mas de la Fouque is an invitation to travel with a free spirit in a natural, unspoilt setting. We define ourselves as an unconventional hotel: with an element of surprise, tailor-made and unexpected. As lovers of the Camargue, we take great delight in welcoming all kinds of people (couples, families, young, old, French and overseas) so they can discover the wealth of our local culture. Le Mas de la Fouque is a wonderful place to stay and a place you will want to return to again and again…
Sustainability
An environment to be preserved
Situated in the heart of the Camargue, we recognize that we live in an exceptional and natural environment, but also fragile. As the residents of this wild, unspoilt land, we are responsible for its protection. Although the property wasn't purpose built by the previous owners, we are now committed to reducing our carbon footprint to the minimum.
Location
Le Mas de la Fouque is situated in Saintes- Maries-de-la-Mer, the capital of the Camargue, in Les Bouches-du-Rhône. In the Gard area, we are only 1h from Montpellier and Nimes, 1h30 from Marseille and 3h from Lyon.
Easy access by car on the D38.
Environment
Tucked away in the meandering river Rhône, Le Mas de la Fouque is situated in the heart of the Camargue, a region where sky, land and sea blend together to create a natural masterpiece. The white horses and black bulls are a striking contrast against the blend of colours dominated by the pinks of the saltmarshes and flamingos, the green pastures and the blue of the sea.
Man and nature live together in harmony, joining forces for thousands of years, to paint a perfect panoramic picture and shape the contours of these well known cities: Aigues-Mortes, Les Saintes-Maries-de-la-Mer, Arles…
The Camargue is also a region with a strong identity. The Guardians of the Camargue fiercely protect their part of the world and endeavour to keep their traditions alive. The water, the rice, the salt, the wine… They feed off these natural resources and share the abundance of their culture and the richness of their territory.