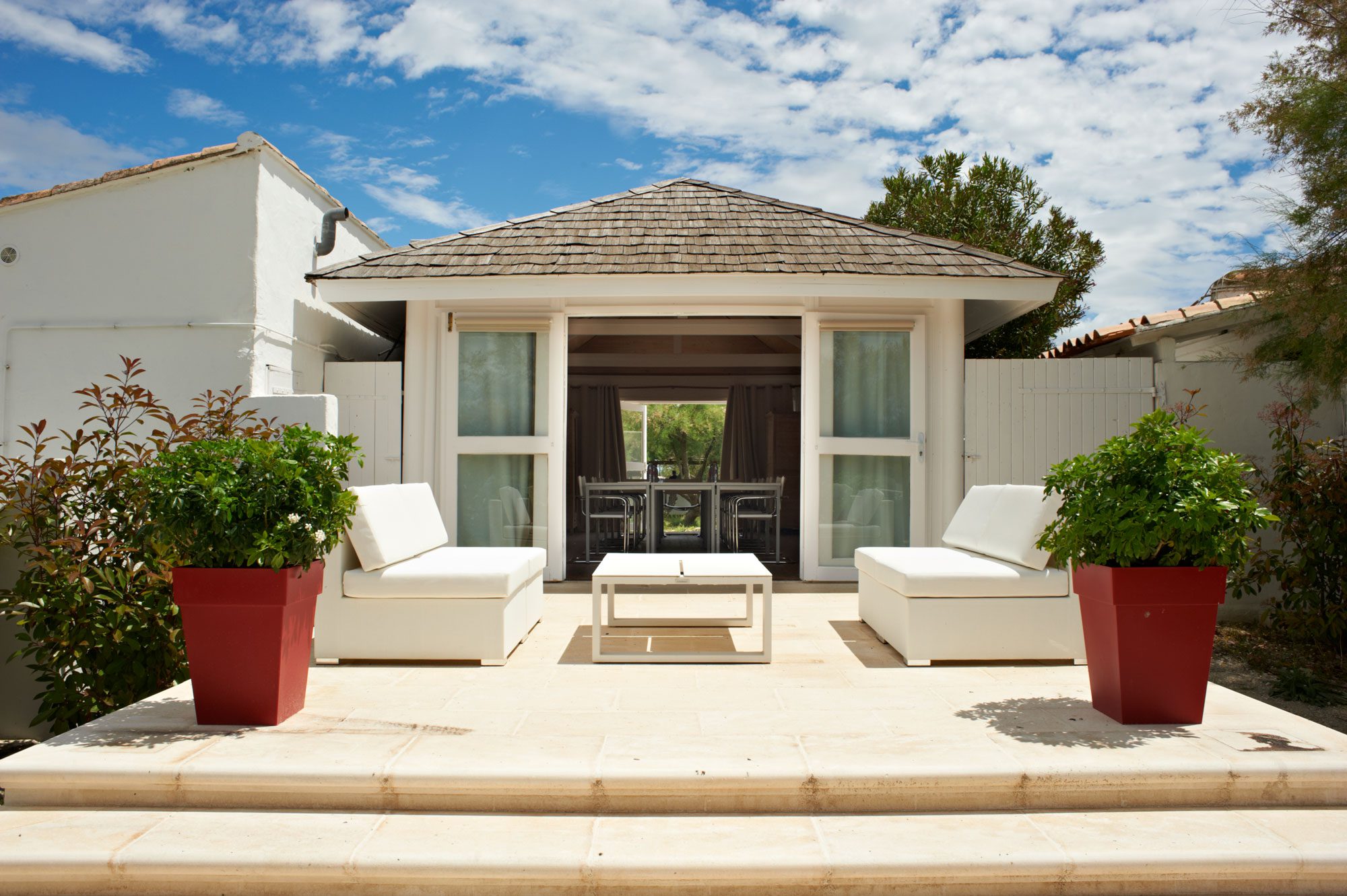 For businesses looking for a different and unique venue, Le Mas de la Fouque welcomes companies for their seminars or team building events. Your business event will take place in a stylish, bohemian environment…
The reception room
An ideal space to work in
On the water's edge, opening up onto the Camargue, our reception room is available for all your business events: business meetings, seminars, team building, a product launch…You will be able to accommodate your staff and clients in a sumptuous setting. In a quiet and serene atmosphere, all the necessary furniture and equipment is available: desks, chairs, a screen, video projector, white board, water, coffee machine, stationery, internet connection…
– Floor space: 35
– Capacity to accommodate in a U layout: 20 people
– Capacity to accommodate in a theatre layout: 30 people
The Nuxe Spa
For complete relaxation
Seminars and team building events are for people to work together and here they can also relax and chill out. The bohemian chic feeling of the hotel extends into the Nuxe spa, a real peace haven at Le Mas de la Fouque. Your employees will really appreciate this bright, relaxing space, opening out onto the natural environment: heated swimming pool, hydro-massage bath, sauna, ice fountain… you can make this an everlasting relaxing break.
La Table de Marius
Cuisine of the South
Our gourmet restaurant explores the wealth of Camargue products and top of the list is Les taureaux des Délices de Scamandre, le riz des Canards des rizières and vegetables from the farm "La Longue Jeanne".
In the dining room, on the terrace or on the veranda, you are surrounded by nature and immersed in a soothing and tranquil atmosphere… Your dining experience amongst work colleagues will never be as quiet and peaceful as it is at Le Mas de la Fouque.
And because each business event you hold portrays the image of your business, our team are at your disposal to compose tailor-made lunches and dinners : all you need to do is let us know what dishes you would like to taste from our daily selection and we will prepare an exceptional meal for you.
So we can best organise your event, we will ask you to let our team know of your choices a week before your arrival.
The activities
A wide variety of choices
You will notice on your arrival: Le Mas de la Fouque is situated in an exceptionally natural environment, a perfect place for relaxation and out-door leisure activities. Our team, lovers of this environment and with a fine knowledge of the area, are the best people to guide you: Indoor or outdoor activities, sporty or cultural… everything is possible at Le Mas de la Fouque.
– Try the segway or an all-terrain electric scooter
– A yoga and meditation course
– Excursion by bike or horseback
– Sea outing
– Visit the ranch
– Local wine tasting
– Discover the Camargue on a 4×4
– Tennis or pétanque tournaments
– …
The Hotel
A remarkable place
With its 24 rooms and suites and 3 gypsy caravans, the hotel Le Mas de la Fouque welcomes you, in a warm, understated environment, with its alluring gypsy culture and where nature reigns supreme.
All our rooms and suites ares tastefully decorated and fitted with all the comforts of a 4 star hotel in South of France.
Your employees and clients will be charmed by the peace and tranquillity of this place, with terraces offering stunning water views.
For details of our rates, don't hesitate to contact us. Our team are here for you.